SMART CITY 2021- SHAPING BIHAR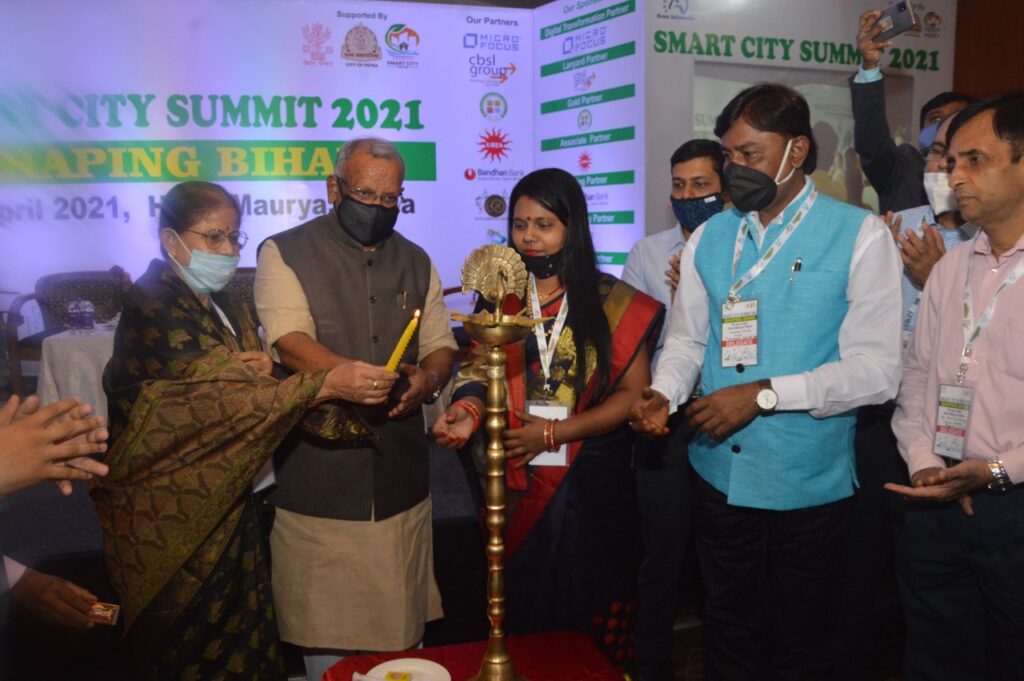 Smart cities emerge as the outcome of many smart solutions across all sectors of country. Every sector devote with its own exclusive innovations to the overall growth of the smart city. Accumulating the potential benefits from all admissible sectors is the challenge of the city. A smart city is the result of the efforts of many stakeholders, governments, PSU's working together in partnerships of different shape and form.
Acme Infomedia is pleased to announce the Smart City 2021 scheduled to take place on 7th April 2021. It will impression the significance of various parts of infrastructure that should be readied, planned, assembled and executed so as to give the savvy quirk to a state progression.
The summit will emphasize the designated heads of various departments municipalities, urban/city planning, Infrastructure development, transportation, tourism, IT, Finance, Land development & water resources, Science & technology, Housing, Medical Health, research/academic institutes, engineers/consultants, energy and utility experts, mobility and experts, technology providers, and many more. The end objective behind bringing every one of these specialists under one rooftop is to encourage conceptualizing on the chances, difficulties and extension for building up a genuinely keen city foundation, including the current circumstances relating to strategy rules, administrative standards, usage challenges, and so forth., featuring the significance of coordinating ICT to help the Brilliant Urban communities mission in India.
The occasion highlights activity pressed gathering meetings, board conversations, whole meetings, and gives chances to balanced gatherings, bunch conversations and systems administration exercises. A full line-up of over entire day gathering meetings empowers speakers and delegates to work together and share best practices over a wide scope of savvy innovation zones. The conference will help worldwide pioneers, government directors, city bodies and others to imagine the urban communities of tomorrow.
Who Attend?
Ministry of Bihar, Various Government Departments, Ministers, Principal Secretary, Joint Secretary, Mayors, Municipal Commissioner
IT Companies, Water & sanitation, Telecom Companies, Waste management, Technology Providers, Solar Companies, Transport Related Companies, Safety & Security, Health & Education, Banks & Financial Institution, Construction Companies, Builders and many more…..
Why to Attend?
Find the key difficulties concerning guideline, financing and private/open organizations. See how the Web of Things (IoT) is upsetting businesses and causing intermingling to make brilliant vitality, shrewd transportation, keen foundation furthermore, brilliant structures, shrewd security, keen or associated homes, and savvy medical services arrangements. Increase a knowledge into ordinarily watched plans of action and their pertinence to India. Examine India's region based advancement system and the financial gap. Investigate the different budgetary adaptability openings that are accessible for India. Find the possible effect of the 100 savvy urban areas on the fate of the Indian economy. Corporate & IT Companies will get the opportunity to interact with government and other decision makers of the society to showcase their latest product that can bring a positive change in a manner that will help to develop a smart nation.
SHAPING BIHAR- SABKA SAPNA SMART BIHAR HO APNA
This forum will trace the importance of different aspects of infrastructure that needs to be planned, designed, built and operated in order to provide the 'Smart' attribute to a state development. The expo will assist global leaders, government administrators, municipal bodies and others to envision the cities of tomorrow. Business delegations from across the globe will attend the conference.